Browsing articles tagged with " Intel"
What did I learn (or what did you miss) at Disrupt 2014?
On Monday I attended The Robert Frances Group's (RFG) Disrupt 2014 conference in New York City. The attendees enjoyed an over-the-top lunch and several hours of interesting and informative presentations. I would probably gain weight just recounting the menu, so instead I'll review two of the presentations, and hint at a third.

1 – IT Disruptive Tech Trends and Directions
With this as the title, Cal Braunstein, CEO and Executive Director of Research for RFG, began by showing us how the pace of disruptive technology is increasing dramatically. According to AIIM, for more than 1/3 of the organizations studied, 90% of their IT spend adds no new value. It was the right start for Disrupt 2014. 
IT budgets are increasing linearly, at 1-5% per year, while the data we produce is increasing exponentially. Disruption isn't just necessary, it is critical!
What is disruption? RFG defines it as industry leaders responding to the changes in customer demands and global economics by making fundamental changes in their approach to products, services, service delivery, engagement models, and the economic model on which their industry is based. You can read more about it here.
Cal focused on Storage Trends and Directions as a bellwether of disruption.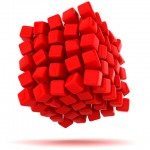 Intel conducted a study in 2012 that informed part of Cal's presentation. When looking at a data center and its technology, servers from before 2008 comprised 32% of the hardware but they consumed 60% of the data center power budget. Here is the bad news. The old gear only provided 4% of performance capacity. The point is that the technology rate of change is exponential and any IT executive that keeps IT hardware past 40 months is costing his company money. Keeping current and transforming the data center over a 3 year cycle should be viewed as a strategic approach to modernizing a data center and containing costs. The improvement in processing power vs. power consumed is truly disruptive. You could pay for a data center renewal simply by scrapping the old power burning gear. RFG has identified the following optimization opportunities, which Cal presented.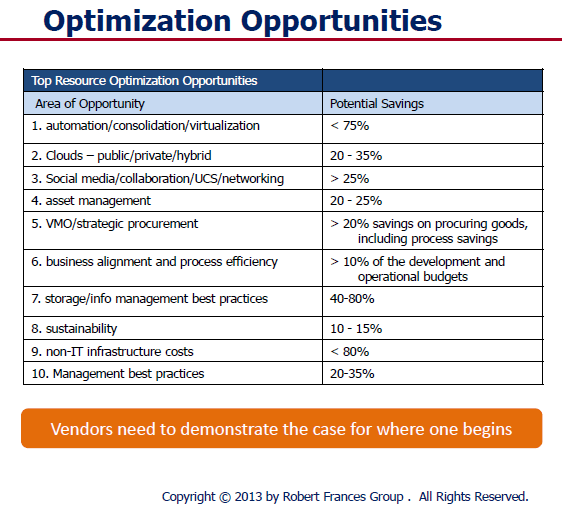 RFG has "Disrupt 2014" marching orders for IT
IT departments must keep up with disruptive technologies
Don't wait for next wave to become mainstream – the time to act is now
IT vision and strategy must include waves of change
IT needs business and user executives to share the vision, integrate & buy-in
Data Center transformation is a must and has a very positive business case
IT vendors must show a business case, not just talk about products & services
 2 – The Value of TCO Studies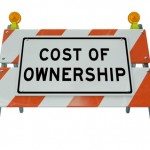 RFG Principal Analyst Gary McFadden presented on the value of Total Cost of Ownership (TCO) studies to support acquisition decisions. Gary's Disrupt 2014 thesis was straightforward. According to Gary…
Businesses today are willing to invest provided they can see a decent return and a positive cost value proposition. Our TCO studies address the total cost of acquisition and ownership and the return on investment
In the RFG world, a TCO is a business-oriented custom research report that compares vendor offerings to those of their competitors. The report shows how the vendor's solution could be financially superior to traditional approaches, and considers soft-dollar aspects as well as hard costs.
Knowing that, you should realize that all TCO studies are not created equal. Gary presented an overview of key TCO choices. Which one is right for you? Well, that depends on your needs. Your time horizon and buying cycle are chief determinants of which style of TCO would be right for you.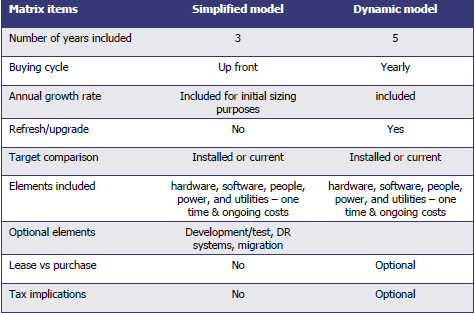 Making Sense of the Data
Gary correctly pointed out that no matter how comprehensive the data gathering phase of a TCO, the accumulated bulk of data is not actionable unless it is expressed in a useful manner. In the charts following, Gary contracted the details with an organized RFG presentation. The left chart holds mysteries, while the right one offers answers.
Remember that all TCOs are not created equal. Make sure that the one you pay for delivers the information you need, and the ones you use in your research follow a robust development methodology and contain the insights you require to enable your decision.
By the way, don't think RFG delivers vendor-slanted product and service stories. That is not what they are about. Instead, RFG's TCO reports are targeted at business and technology executives including CIOs, IT VPs/directors, CFOs, CMO, facilities executives, etc. They relate a business narrative designed to explain the business case for taking certain actions.
3 – Storm Insights "Mystery Presentation"
No, I can't tell you much. All I can say is that Dr. Adrian Bowles has an exciting and disruptive information services offering that will change the way IT product and services vendors learn about their markets, and the way their markets learn about them. Don't write off traditional research and advisory services yet, but stay tuned. I'll report about the Storm Insights offering as the new year unfolds. For now, take my word for it… this is very interesting!
The Bottom Line
Disrupt 2014 delivered great value and a great lunch to the appreciative attendees. RFG extended the hand of friendship and those that took hold learned much and enjoyed the sense of community that appears when like-minded professionals gather to exchange ideas. When RFG asks you to attend one of their meetings, the smart answer is "YES"!
Published by permission of Stuart Selip, Principal Consulting LLC
Lead Analyst: Cal Braunstein
Amazon Inc. and Microsoft Corp. lowered their pricing for certain cloud offerings in attempts to maintain leadership and/or preserve customers. Similarly, Hewlett-Packard Co. (HP) launched its next-generation Moonshot hyperscale servers. Meanwhile, IDG Connect, the demand generation division of International Data Group (IDG), released its survey findings that show there may be a skills shortage when it comes to the soft skills required when communicating beyond the IT walls.
Focal Points:
Earlier this month Amazon price reduced the prices it charged for its Windows on-demand servers by up to 26 percent. This brought its pricings within pennies of Microsoft's Windows Azure cloud fees. The price reductions apply across Amazon's standard (m1), second-generation standard (m3), high-memory (m2), and high-CPU (c1) instance families. CEO Jeff Bezos stated in the Amazon annual report the strategy of cutting prices before the company needs to, and developing technologies before there is a financially motivating factor, is what protects the company from unexpected markets shifts. Microsoft has responded by aggressively cutting its prices by 21 to 33 percent for hosting and processing customer online data. In order for customers to qualify for the cuts they must make monthly commitments to Azure for either six or 12 months. Microsoft also is making its Windows Azure Virtual Network technology (codenamed "Brooklyn") generally available effective April 16. Windows Azure Virtual Network is designed to allow companies to extend their networks by enabling secure site-to-site VPN connectivity between the enterprise and the Windows Azure cloud.
HP launched its initial Moonshot servers, which use Intel Corp. Atom low-cost, low-energy microprocessors, This next-generation of servers is the first wave of hyperscale software defined server computing models to be offered by HP. These particular servers are designed to be used in dedicated hosting and Web front end environments. The company stated that two more "leaps" will be out this year that will be targeted to handle other specific workloads. HP claims its architecture can scale 10:1 over existing offerings while providing eight times the efficiency. The Moonshot 1500 uses Intel Atom S1200 microprocessors, utilizes a 4.3U (7.5 inch tall) chassis that hosts 45 "Gemini" server cartridges, and up to 1800 quad-core servers will fit into a 42U rack. Other x86 chips from Advanced Micro Devices Inc. (AMD), plus ARM processors from Calxeda Inc., Texas Instruments Inc., and Applied Micro Circuits Corp. (AMCC) are also expected to be available in the "Gemini" cartridge form factor. The first Moonshot servers support Linux, but are compatible with Windows, VMware and traditional enterprise applications. Pricing starts at $61,875 for the enclosure, 45 HP ProLiant Moonshot servers and an integrated switch, according to HP officials. (For more on this topic see this week's Research Note "HP's Moonshot – the Launch.")
According to a new study by IDG Connect, 83 percent of European respondents believe there is no IT skills shortage while 93 percent of U.S. respondents definitely feel there is a gap between the technical skills IT staff possess and the skills needed by the respondents' companies. IDG attributes this glaring differentiation to what are loosely defined as "hard" (true technical skills and competencies) and "soft" (business, behavioral, communications, and interpersonal) skills. The European respondents focused on hard skills while their American counterparts were more concerned about the soft skills, which will become more prevalent within IT as it goes through a transformation to support the next-generation data center environments and greater integration with the business. As IT becomes more integrated with the business and operational skill requirements shift, IDG concludes "companies can only be as good as the individuals that work within them. People … are capable of creative leaps of thinking and greatness that surpass all machines. This means that any discussion on IT skills, and any decision on the qualities required for future progression are fundamental to innovation. This is especially true in IT, where the role of the CIO is rapidly expanding within the enterprise and the department as a whole is becoming increasingly important to the entire business. It seems IT is forever teetering on the brink of bigger and better things – and it is up to the people within it to maximize this potential."
RFG POV: IT always exists in a state of disruptive innovation and the next decade will be no different. Whether it is a shift to the cloud, hyperscale computing, software-defined data center or other technological shifts, IT must be prepared to deal with the business and pricing models that arise. Jeff Bezos is correct by not sitting on his laurels and constantly pushing the envelope in pricing and services. IT executives need to do the same and deliver comparable services at prices that appeal to the business while covering costs. This requires keeping current on technology and having the staff on board that can solve the business problems and deliver innovative solutions that enable the organization to remain competitive. RFG expects the staffing dilemma to emerge over the next few years as data centers transform to meet the next generation of business and IT needs. At that time most IT staff will not need the current skills they use but skills that allow them to work with the business, providers and others to deliver solutions built on logical platforms (rather than physical infrastructure). Only a few staff will need to know the nuts and bolts of the hardware and physical layouts. This paradigm shift in staff capabilities and skills must be anticipated if IT executives do not want to be caught behind the curve and left to struggle with catching up with demand. IT executives should be developing their next-generation IT development and operations strategies, determining skills needed and the gap, and then begin a career planning and weaning-out process so that IT will be able to provide the leadership and skills needed to support the business over the next decade of disruptive innovation. Additionally, IT executives should determine if Moonshot servers are applicable in their current or target environments, and if so, conduct a pilot when the time is right. 
Lead Analyst: Cal Braunstein
Bellwether Cisco Systems Inc.'s quarterly results beat expectations while CEO John Chambers opined global business was looking cautiously optimistic. In other system news, IBM Corp. made a series of hardware announcements, including new entry level Power Systems servers that offer better total cost of acquisition (TCA) and total cost of ownership (TCO) than comparable competitive Intel Corp. x86-based servers. Meanwhile, the new 2013 Dice Holdings Inc. Tech Salary Survey finds technology professionals enjoyed the biggest pay raise in a decade last year.
Focal Points:
Cisco reported its fiscal second quarter revenues rose five percent to $12.1 billion versus the previous year's quarter. Net income on a GAAP basis increased 6.2 percent to $2.7 billion. The company's data center business grew 65 percent compared with the previous year, while its wireless business and service provider video offerings gained 27 and 20 percent, respectively. However, Cisco's core router and switching business did not fare as well, with the router business shrinking six percent and the switching revenues only climbing three percent. EMEA revenues shrank six percent year-over-year while the Americas and Asia Pacific climbed two and three percent, respectively. CEO Chambers warned the overall picture was mixed with parts of Europe remaining very challenging. However, he stated there are early signs of stabilization in government spending and also in probably a little bit over two thirds of Europe. While there is cautious optimism, there is little tangible evidence that Cisco has turned the corner.
IBM's Systems and Technology Group launched a number of systems and solutions across its product lines, including new PureSystems solutions, on February 5. As part of the announcement was more affordable, more powerful Power Systems servers designed to aggressively take on Dell Inc., Hewlett-Packard Co. (HP), and Oracle Corp. The upgraded servers are based upon the POWER7+ microprocessors and have a starting price as low as $5,947 for the Power Express 710. IBM stated the 710 and 730 are competitively priced against HP's Integrity servers and Oracle's Sparc servers while the PowerLinux 7R1 and 7R2 servers are very aggressively priced to garner market share from x86 servers.
Dice, a job search site for engineering and technology professionals, recently released its 2013 Tech Salary Survey. Amongst its key findings was that technology salaries saw the biggest year-over-year salary jump in over a decade, with the average salary increasing 5.3 percent. Additionally, 64 percent of 15,049 surveyed in late 2012 are confident they can find favorable new positions, if desired. Scot Melland, CEO of Dice Holdings, stated companies will now have to either pay to recruit or pay to retain and today, companies are doing both for IT professionals. The top reasons for changing jobs were greater compensation (67 percent), better working conditions (47 percent) and more responsibility (36 percent). David Foote, chief analyst at Foote Partners LLC, finds IT jobs have been on a "strong and sustained growth run" since February 2012. By Foote Partners' calculations, January IT employment showed its largest monthly increase in five years. Foote believes the momentum is so powerful that it is likely to continue barring a severe and deep falloff in the general economy or a catastrophic event. Based on Bureau of Labor Statistics (BLS) data, Foote estimates a gain of 22,100 jobs in January across four IT-related job sectors, whereas the average monthly employment gains from October to December 2012 were 9,700.
RFG POV: While the global economic outlook appears a little brighter than last year, indications are it may not last. Executives will have to carefully manage spending; however, with the need to increase salaries to retain talent this year, extra caution must be undertaken in other spending areas. IT executives should consider leasing IT equipment, software and services for all new acquisitions. This will help to preserve capital while allowing IT to move forward aggressively on innovation, enhancement and transformation projects. RFG studies find 36 to 40 month hardware and software leases are optimum and can be less expensive than purchasing or financing, even over a five year period. Moreover, IBM's new entry level Power Systems servers are another game-changer. An RFG study found that the three-year TCA for similarly configured x86 systems handling the same workload as the POWER7+ systems can be up to 75 percent more expensive while the TCO of the x86 servers can be up to 65 percent more expensive. Furthermore, the cost advantage of the Power Systems could even be greater if one included the cost of development systems, application software and downtime impacts. IT executives should reevaluate its standards for platform selection based upon cost, performance, service levels and workload and not automatically assume that x86 servers are the IT processing answer to all business needs.
Lead Analyst: Cal Braunstein
EMC Corp. announced preliminary second quarter financial results along with executive changes at EMC and its subsidiary, VMware Inc. In other financial news, Intel Corp. reported its second quarter results, which saw its earnings drop while SAP AG reported strong second quarter financials.
Focal Points:
EMC and VMware made surprise announcements when word leaked out that VMware CEO Paul Maritz was being replaced. Joe Tucci, EMC Chairman and CEO stated the IT industry is in the midst of an extraordinary transformation unlike anything we have seen before – a major shift to Cloud Computing, Big Data applications and delivering IT-as-a-Service.  To capitalize on this shift Pat Gelsinger, EMC President and COO of Information Infrastructure Products, has been appointed CEO of VMware while Paul Maritz is joining EMC as Chief Strategist, reporting to Tucci. Both changes are effective September 1st. David Goulden, Executive Vice President and CFO, will assume the additional roles of President and COO of EMC effective immediately. On the financial front, EMC announced preliminary second-quarter 2012 results with record second quarter consolidated revenues of approximately $5.31 billion, up 10 percent year-over-year. The company also had record second quarter non-GAAP earnings per weighted average diluted share (EPS) of $0.39, up 11 percent over the previous year's quarter. Meanwhile, VMware is projecting second quarter revenues of $1.123 billion, an increase of 22 percent from second quarter 2011.
Intel reported second quarter revenues of $13.5 billion, up 3.6 percent year-over-year. Net income was $2.83 billion, down 4.3 percent from $2.95 billion a year earlier, as operating expenses rose faster than revenues. Consumer demand in North America and Western Europe is not recovering as fast as Intel expected, according to CEO Paul Otellini. He also stated growth in emerging markets such as China and Brazil is also slowing down. For the full fiscal year, Intel now expects sale to grow three to five percent from last year, rather than the "high single digit" level the company predicted earlier. He also noted that Ultrabooks are still relatively expensive but prices are expected to drop to $699 this fall.
In the quarter just ending, SAP announced it had total revenues of €3.9 billion, an increase of 18 percent over the €3.3 billion booked in second quarter of 2011. The company booked €1.06 billion in new license sales, up 26 percent compared to the year-ago period when it reported €0.84 billion. Software and support revenues for the quarter came to €3.12 billion, a jump of 21 percent. On an IFRS accounting basis, operating profits only rose by 7 percent in the quarter to €920 million. The company boasted of posting its tenth consecutive quarter of double-digit growth in non-IFRS software and software-related service revenues. The company also claimed it had stellar results in SAP HANA, mobile and cloud computing in all regions.
RFG POV: The management teams at EMC and VMware continue to expand and execute their visions of the future of IT and deliver top-tier products and services in a timely manner. The removal of Paul Maritz at VMware was first thought to be a rare management error but once the total set of announcements was made, the logic was compelling. With Pat Gelsinger at the helm of VMware and Maritz as EMC's chief strategist, the companies should be able to keep up the double-digit growth momentum that the firms have delivered over the past few years. IT executives with strategic relationships with either or both companies should get a strategic update by yearend so that they can understand the new vision and determine how it fits with the corporation's strategy and target architecture. Given the slowing demand and the decline of PC sales, it is not surprising that Intel did not perform as well as it has in the past. Until the company gets its Ultrabook and Atom product lines selling well, growth will be diminished or possibly shrinking. Apple Inc. is a formidable competitor and its products are expected to take market share from Intel for the next few years. The company has made some very significant advances in driving data center efficiency internally and if it can get its customers to follow suit, it might be able to get data center product and services sales making up for the slack in PC revenues. IT executives should add Intel to the list of IT firms to talk to about slashing the cost of data center operations.  SAP continues to plow on and remain a thorn in Oracle Corp.'s side. It has been able to revise its business model so that it can capture the new revenue streams without doing much damage to its traditional revenue routes. The company is well poised to address the new hot areas of cloud, mobile and high performance in-memory computing for business intelligence and analytics. IT executives should keep abreast of Oracle's and SAP's strategies and visions and, where appropriate, incorporate relevant components – and possibly products – into their future visions and target architectures.